GREG HANDS MP HAS BEEN NAMED PATRON OF AZBUKA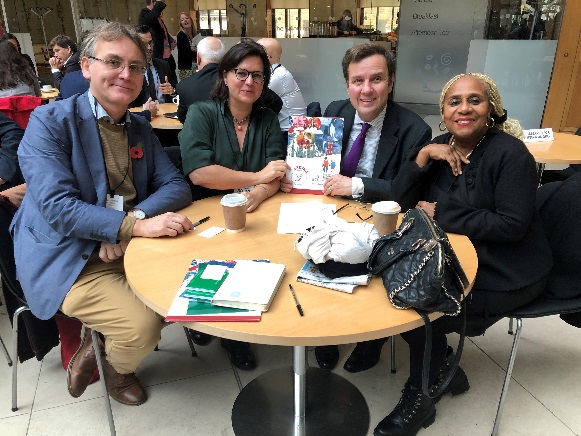 GREG HANDS MP HAS BEEN NAMED PATRON OF AZBUKA, IN A MOVE THAT REFLECTS GROWING ENDORSEMENT OF THE FOUNDATION'S APPROACH TO BILINGUAL EDUCATION
ГРЭГ ХЭНДС, ЧЛЕН ПАРЛАМЕНТА, СТАНОВИТСЯ ОФИЦИАЛЬНЫМ ПАТРОНОМ АЗБУКИ
Partnering to Create Impact
Greg Hands MP has been named Patron of Azbuka, the UK's First Russian-English bilingual primary school, in a move that reflects growing endorsement of the foundation's approach to bilingual education.

"I love everything bilingual," he said, praising Azbuka's fast growth in recent years in its new home in Hammersmith. "I am honoured to be their new patron."

Mr Hands, who represents Chelsea & Westminster in the House of Commons, agreed to take on the role during a meeting in parliament with Maria Gavrilova, the founder, Jason Manning, the governor, and Marion Schumann, former Councillor and Mayor of Lambeth and a Russian-speaking adviser to Azbuka and fundraiser.
Mr Hands himself speaks several European (including Slavic languages) has
brought his own children to Azbuka in the past.

Maria Gavrilova, head of Azbuka, said: "We are delighted to welcome Greg Hands as patron, reflecting his commitment to our vision of bilingual education."
Partnering to Create Impact
By helping and supporting Azbuka foundation you enable Fair Access to Bilingual Education, the UK's first Russian-English bilingual school, innovative teaching methods and Russian-English
cultural immersion for children from all backgrounds across wide London Community.
Azbuka offers and guarantees to its partners:
Full transparency and efficient management of provided funding
Active relationship management and engagement
Active promotion of partner's name and contribution they make to community through all Azbuka's resources (website, social media, printed materials)


AZBUKA Foundation is the UK's first Russian-English bilingual school and a bilingual education resource for the wider community and UK registered charity (1153976)
www.facebook.com/azbukafoundation
https://www.instagram.com/azbuka_foundation/
headteacher@azbukafoundation.org 00 44 (0)208 392 2286